LATEST NEWS - JANUARY 5
The parking lot paving project was completed in November. Hopefully your cars will stay cleaner this winter (wish the same could be said for your dogs).

PARK LOCATION & DESCRIPTION
Cherokee Park is a 409-acre park located in the heart of Louisville. The Louisville Dog Run Association is currently working with Louisville Metro Parks to establish the Cochran Hill Dog Run at Cherokee Park.

The Cochran Hill Dog Run in Cherokee Park is located on a portion of Cherokee Park between I-64 and Lexington Road at the northern end of the park. The dog park is approximately two acres and is divided in half to allow one side for all dog use and one side for small dog use. To see the layout of the site please go to http://louisvilledogs.netfirms.com/cherokee.pdf.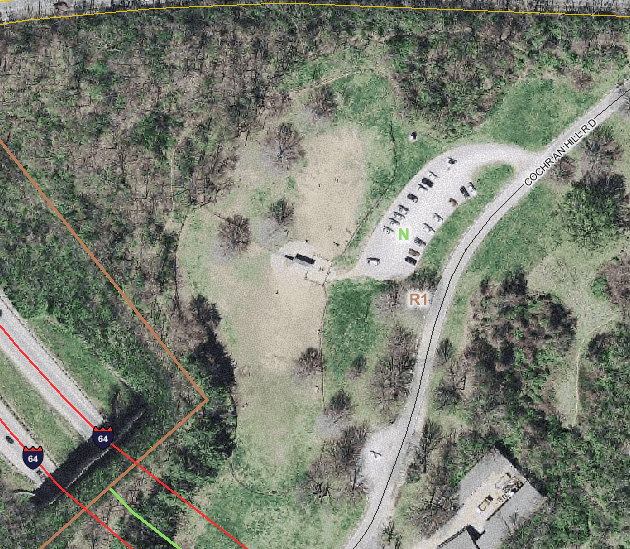 (2009 Aerial Photo of Cochran Hill Dog Run (scroll over to highlight fence))



DIRECTIONS
From I-64 = Take EXIT 8 and turn south onto GRINSTEAD DRIVE. Go down GRINSTEAD DRIVE and take a left onto LEXINGTON ROAD. Go about half a mile and take a right onto COCHRAN HILL ROAD (first road on your right after you go under I-64). The dog park is located immediately to your right.

From Bardstown Road = Turn east onto EASTERN PARKWAY. Take EASTERN PARKWAY into Cherokee Park and onto the SCENIC LOOP. Follow the SCENIC LOOP around past the archery range and take a right onto COCHRAN HILL ROAD (on your right just before you get to the rugby field). Go to the top of the hill, past the maintenance building, and the dog park will be on your left.

If you are a GPS user, try entering 740 Cochran Hill Road in for the address of the park.