CLICK HERE FOR APPLICATION INFORMATION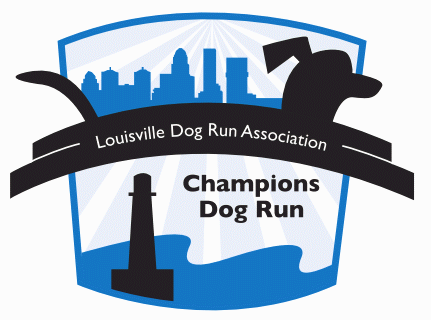 LATEST NEWS - JANUARY 5
The fence relocation project was completed in November. As you probably noticed if you've been lately, the Louisville Water Company has also completed the demolition of the old River Road Country Club clubhouse. We are told they will be doing some landscaping this spring.





PARK LOCATION & DESCRIPTION
Champions Park is a new park along the River Road Recreation Corridor that includes the former Louisville Soccer Park, the Frankfort Avenue Landfill and the former River Road Country Club site. The Champions Dog Run is the first facility in this new park and spreads out over 2.6 acres of the former golf course. There are separate All Dog and Small Dog sides, drinking water available, and plenty of space to run around and exercise.


DIRECTIONS
From I-71 = Take EXIT 2 and turn north onto ZORN AVENUE. The entrance to the parking area for the dog run will be located on your immediate left. If you get to River Road you've gone too far.

If you are a GPS user and need an address try using 2930 River Road, just be aware that the entrance to the property is off of Zorn Avenue and not River River.


RULES
Please go to http://louisvilledogs.netfirms.com/rules.html for a complete list of the Champions Dog Run rules.


CHAMPIONS ADVISORY COMMITTEE
The Champions Advisory Committee (CAC) is a subcommittee of the Louisville Dog Run Association Board of Directors. The CAC is made up of people who regularly visit the dog run who are willing to help oversee the day-to-day operations of the Champions Dog Run. The CAC also oversees rule enforcement, maintenance, and member relations. For more information about the Champions Advisory Committee please go to http://louisvilledogs.netfirms.com/info.html or email us at info@louisvilledogs.com.


DOG PARK PERMITS
The cost of the 2011 Dog Park Permit is $30.00 for the first dog, $20.00 for the second dog, $10.00 for the third dog and $5.00 per additional dog in the same household. All funds from the sale of the Dog Run Permits will go towards the dog run's maintenance and improvement costs. The permit will allow unlimited use of the dog park through December 31, 2011. If you would like to get a permit to the Champions Dog Run, go to http://louisvilledogs.netfirms.com/application.html. If you have any questions please email us at info@louisvilledogs.com.



VISITING LOUISVILLE?
Are you and your dog planning on visiting Louisville? If you will be visiting or passing through Louisville please email us at info@louisvilledogs.com to find out how your four-legged traveling companion can have access to the Cherokee Dog Park. We do what we can to help give out-of-town visitors a place to allow their dog's to stretch their legs. All we ask is that you contact us before you come to town, make sure to bring along your vaccination records with you, and email us after you've visited the park to let us know what you think. Also, be sure to email Metro Parks by CLICKING HERE and tell them what a great time you had at the Cochran Hill Dog Run.


---
If you have any questions please contact us at champions@louisvilledogs.com.
---
If you have any questions please contact us at info@louisvilledogs.com.
Receive LDRA Information & Updates Via Email!
Enter your email address below and press "Submit"
to join our mailing list.


Last Updated February 1, 2011
Louisville Dog Run Association
P.O. Box 221611
Louisville, Kentucky 40252
(502) 867-9416
info@louisvilledogs.com